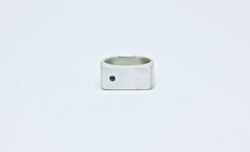 Miono
Signet ring with diamond
I just love the style of the classical signet ring, it reminds me of my grandfather, wearing a signet with a tiny diamond in it. For both men and women.
So I've made a bold variation in 925 silver with a dark cognac colored diamond and matte finish. Also available in gold, as you can find in the Wedding Collection of Miono.
Please mail me for sizes or if you like any other precious gemstone be put in the ring.